Vacation in Lisbon, Portugal - A Place Full of History and Character
My vacation in Lisbon was almost by accident and almost shouldn't have happened. For the winter of 2018, I had planned to traverse the North African country of Morocco, spending time in Marrakech before tackling the Atlas Mountains, Sahara Desert and then enjoying the cultural parts of the ancient city of Fes.
One of the last things to get planned was where to stay on the way back from Morocco. It was decided that we spend a week in Lisbon, with it being a hub of connections to the Middle East and other major destinations. My time in Lisbon has ultimately led me to say that it is a highly underrated and often overlooked European destination.
The Old Town District, Alfama
We decided to stay in the neighborhood of Alfama, the old town district. Plenty of character, old buildings, narrow cobbled streets. Instead of a hotel, we chose a 2-bedroom serviced apartment which was newly refurbished. Although the building had plenty of character and all appliances worked brilliantly, it was still an older building with no lift (we lived on the top floor) and only a narrow staircase to walk up. I certainly see why new-builds with an elevator would be in high demand in Lisbon.
A Gourmet Journey of Portuguese History and Influences
I think many people will agree with me that exploring new cuisines is one of the best aspects of travelling. In Portugal, it is impossible to avoid cod and sardines, cooked in a thousand different ways. Overall, I found the food to be incredibly good and it was very interesting to taste Portuguese history and influences from around the world in its cuisine. For foodies, I recommend spending a good amount of time at the Timeout Food Market, which showcases food from the best restaurants and chefs from around Portugal, as well as artisanal food products from around the country. The food market nature of the area means that everyone is free to explore and choose what they would like to eat, so definitely go with a group.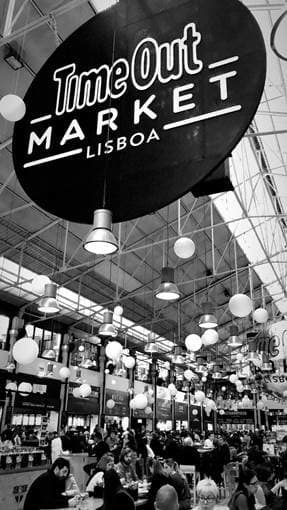 After spending more than a week in Morocco, I was looking forward to having a drink and thankfully, I found that Lisbon has some great places to grab a cold drink. I caught up with friends in a local restaurant run by grandpa and grandma trying to order despite the language barrier. I would always recommend being adventurous and going to small restaurants without flashy advertising. In terms of nightlife, my favorite memory was seeing a hole in the wall (literally), which turned out to be a speakeasy bar (called Ulysses), run by a Portuguese/Canadian who used to be a professor at my university! It was a really interesting find, offering guests bespoke cocktails with no menu. The bartender asks what you like and then makes you a cocktail on the spot. It seats a maximum of eight people, and that is a tight fit! All in all, given the quality of the food, I found myself spending roughly half the amount as I normally would for dining out as when compared to London or Amsterdam.
Sightseeing
I found getting around Lisbon to be very convenient. I prefer walking around a city when I am traveling, and Lisbon was no exception as it gives a better perspective of the place you are visiting. However, using the Metro is also very straightforward and convenient. I would highly recommend taking the #28 tram as it goes through some of the narrowest parts of town and has a stop in Lisbon's very own Chinatown – just beware of pickpockets!
One of the highlights of walking around Lisbon was getting to see the various architectural styles that the buildings have to offer. My personal favorite was noticing the intricate details of the Azulejo tiles (brief history, 13th century, etc.). It is interesting to see the different drawings and colors that occur throughout the city. You will sometimes also see these designs in the interiors of fancy cafes.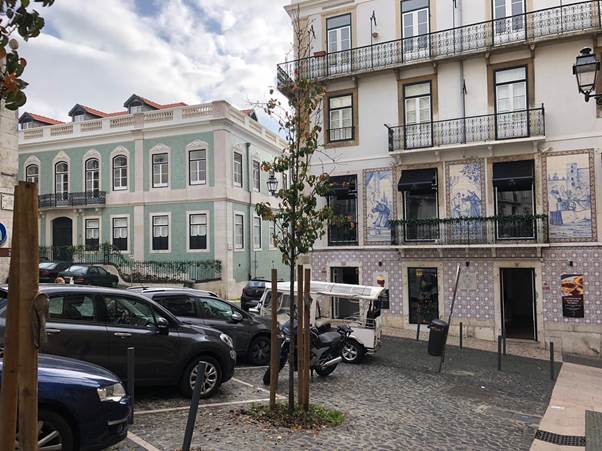 As for getting a taste of the Christmas spirit in Lisbon, hang-out in Praca do Comercio – pedestrian-only streets with little stores and sidewalk cafes.
To enjoy a bit of the trendy lifestyle that Lisbon has to offer, I would spend some time shopping in Chiado, a traditionally wealthier part of the city. The neighborhood has stylish shops, local brands and very trendy cafes and restaurants.
For a great vantage point to admire the city and coastline, I decided to pay a visit to the Castelo de S. Jorge. Walking up through Alfama was an interesting journey of seeing how the old town was built and how it compares to the rest of the city. On the way down, there are plenty of cafes to which you can have a pitstop and enjoy an espresso with a pastel de nata (egg-tart).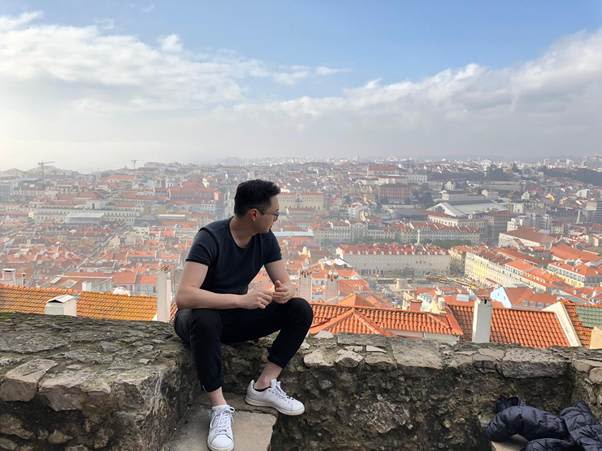 Laidback City with Incredibly Friendly People
My overall impression of Lisbon is a very laidback city with incredibly friendly people. It is quite cheap compared to other 'major' European countries and I can definitely see why young people from other European cities would consider living here. You can feel people here like to enjoy life. In my European travel experience, there are only a few cities where you can genuinely feel the vibrant colors of the city – Lisbon is definitely one of these rare cities. A place full of history and character, I would love the opportunity to go back and explore Lisbon more in-depth as well as other parts of Portugal.