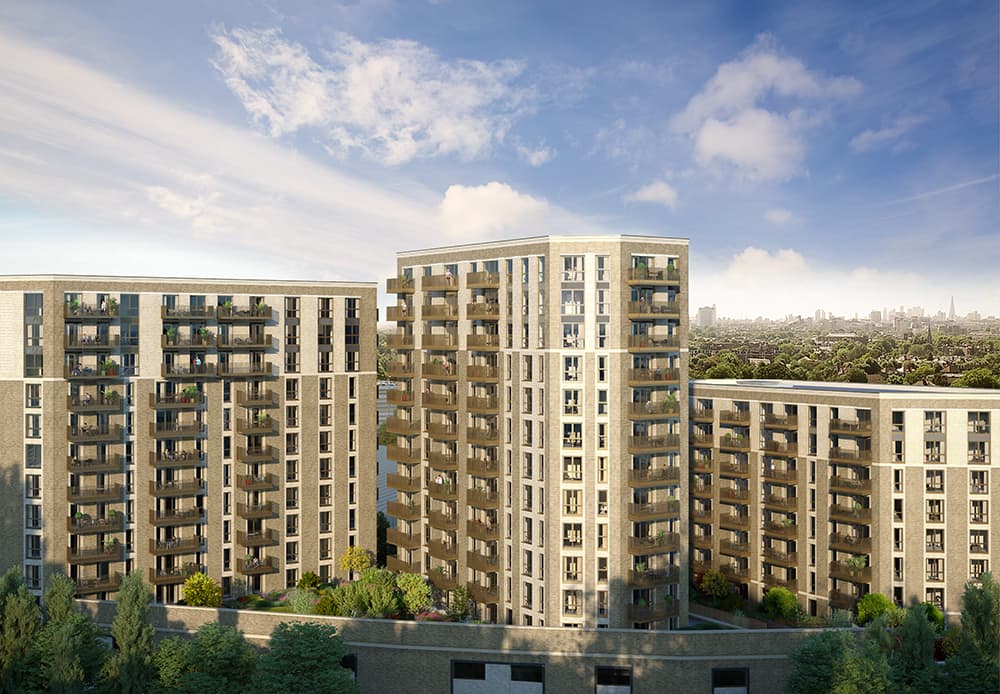 New neighborhoods and transport upgrades are making West London property a cost-effective alternative to Central London
Long overlooked by developers focused on the famous streets of Central London and the booming East End, West London is becoming an attractive alternative for living, working and investing in the UK capital.
More affordable than the prime London market, the redevelopment of well-connected areas such as Kew Bridge in Brentford is making the West a tempting prospect for local and overseas property buyers looking for long-term capital gains. Jones Lang LaSalle (JLL) forecasts 15% growth in West London property prices from 2018 to 2022, outperforming Central London and Greater London as a whole. Further growth is expected when Crossrail and HS2 services begin, improving connections across London and the wider UK and attracting more professionals looking for cheaper rents than central London districts.
£1.85 million has been invested in the regeneration of Kew Bridge and Brentford, a notably green part of London that's close to the Royal Botanic Gardens, the Golden Mile business district and many reputable schools and universities. The regeneration plan includes 1,700 new homes across several new residential districts along with new infrastructure and amenities to serve the growing community and boost property values further.
Great West Corridor
The local council's plan for Brentford and surrounding areas is to create a new mixed-use business and lifestyle quarter to draw attention and investment to West London. Along with a new transport interchange to connect existing overground routes to the new Crossrail and HS2 services at Old Oak Common station, Brentford's regeneration will include a new 17,250 capacity football stadium and a new riverside marina at Watermans Park.
As well as boosting the appeal of the area, these new facilities are expected to attract significant commercial and retail investment to Brentford, which is already a well-established business destination in West London. Many of the world's leading blue chip companies have based their London headquarters along the Golden Mile and Chiswick Business Park – Dell, Sony and the Walt Disney Company among them – employing more than 200,000 skilled workers.
For families, living in Kew and Brentford puts some of London's most prestigious schools, colleges and universities in easy reach. The University of West London has a Brentford campus and the local area has a wide selection of private and community schools rated 'Good' or 'Outstanding' by education regulator Ofsted. Other internationally renowned institutions such as King's College London, Imperial College London, University College London (UCL) and the University of Roehampton are within 45 minutes' travel.
Kew is a popular getaway for Londoners for its heritage sites and natural charms, from picturesque Kew Green and the UNESCO-listed Royal Botanic Gardens to the quirky boutiques of Kew Village. The sights of the city center are less than 30 minutes away by rail (shorter when Crossrail arrives) and it's less than 20 minutes' drive to London Heathrow Airport for travel overseas.
Verdo – Kew Bridge
The first of the new residential neighborhoods in Brentford to welcome investors is Verdo – Kew Bridge, a mixed residential and commercial district by EcoWorld London. A minute's walk from Kew Bridge station and close to Kew Village, Chiswick and the Golden Mile, this new development features luxurious apartments and a selection of shops, restaurants and community spaces surrounded by landscaping.
The latest phase at Verdo, Lily House, offers buyers a choice of studios and one, two or three-bedroom apartments, each featuring a private balcony or terrace, bespoke fittings and stylish contemporary interiors with a choice of color palettes. Residents have access to hotel-style private amenities including a lounge and dining suite, cinema, fully-equipped gym, podium garden and 24-hour concierge services.
A select number of units at Lily House are now available for overseas property buyers, with completion estimated from Q3 to Q4 2022. Investors based in Hong Kong who want to know more about this project can attend JLL's exhibition from Saturday 29 to Sunday 30 August.
Exhibition detail
Date: 29–30 August, 2020 (Sat–Sun)
Time: 11:00am – 6:00pm
Venue: 15/F, Entertainment Suite, The Landmark Mandarin Oriental, 15 Queen's Road Central, Central, Hong Kong
For more information about Verdo Kew Bridge and other residential properties in London, click here or contact JLL International Properties at +852 3759 0909 or irp.hk@ap.jll.com.