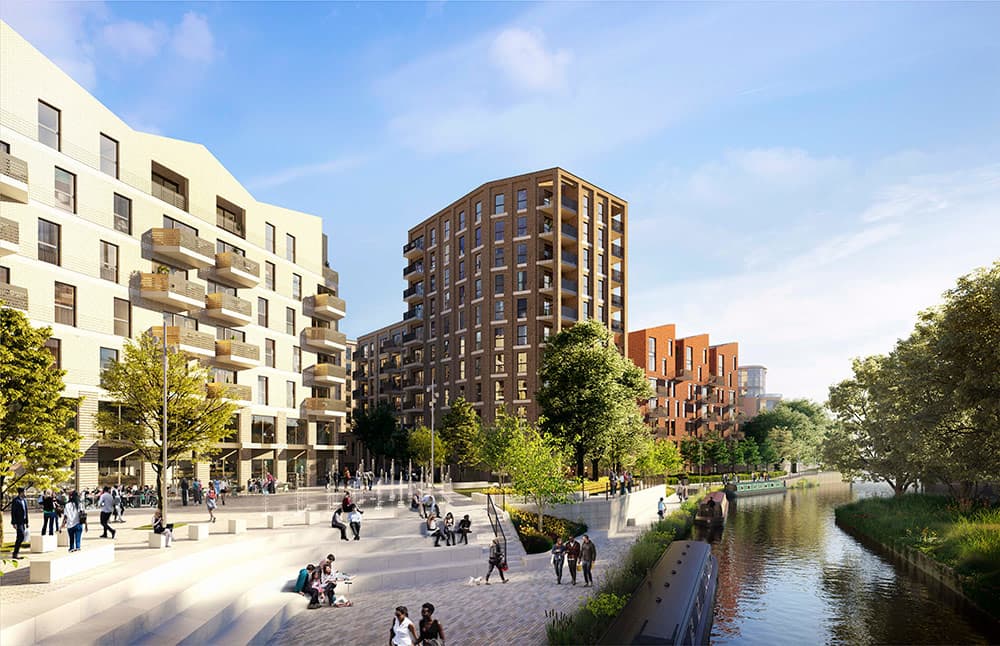 Berkeley Homes is bringing a brand-new collection of apartments to Reading – the economic capital of the Thames Valley.  Huntley Wharf is a new landmark development boasting a prime town centre location, overlooking the River Kennet. An expansive new collection of high specification homes which is set to significantly enhance the property landscape.
Huntley Wharf is one of the UK's most exciting residential investment opportunities to launch this year – the prime south facing riverside setting is just a few minutes' walk from Reading station. Many of the new homes will feature a balcony or terrace to maximise the south facing aspect and riverside views.
Set in nearly 7 acres of beautiful landscaped grounds, the development will offer over 700 homes in three main buildings, enhanced by a host of proposed amenities including a restaurant, coffee shop, convenience store, day nursery, concierge, resident's gym, Riverside Square, Riverside Walk and co-working studio.
New phase launch
This new collection of apartments features distinctive designs and layouts, broadening the style and range of properties currently available to buy in Reading.  As well as traditional style 1 and 2 bedroom apartments, larger two bedroom properties with a main bathroom, ensuite and a bonus study are also available. This release also includes a number of generously sized duplex apartments, plus two riverfront 3 bedroom triplexes with flexible living accommodation spread across 3 floors.
The new homes are located across the main apartment blocks at Huntley Wharf, namely Bakers Yard South, Bakers Yard West and Discovery House West.
Superb investment opportunity
Huntley Wharf offers a truly impressive opportunity for the smart investor. It is set at the heart of a town undergoing rapid transformation, attracting investment by global companies.  Plans have recently been submitted by US company Blackhall Studios and the University of Reading to develop the "largest purpose-built film studio" at Thames Valley Science Park. The move would "bring major Hollywood film productions to the UK" and create up to 3,000 jobs. The company has produced movies such as Venom, Godzilla: King of the Monsters and Jumanji:The Next Level. £500m a year is projected to be invested in the complex, which would produce roughly five to seven movies a year and create 1,500 jobs on-site. (1)
Prime business location
Reading is ranked amongst the top 25 most attractive European cities for direct foreign investment.  It has the highest concentration of digital businesses in the UK, and following the structural growth in technology, Reading is well placed for long term growth opportunities.
Latest research has identified Reading in the top 5 'best broadband hotspots for working from home' (2) and Reading as one of the top 5 'Cities of the Future' - UK innovation economy and best bet for future growth – Centre for Cities 2020 (3) .
Living and working in Reading brings with it many of the benefits of the big city experience without the drawbacks - with the added advantages of beautiful countryside and the majestic River Thames on its doorstep.
This prosperous town is undergoing major transformation, improvements include the evolution of The Oracle shopping centre, the £900m Station upgrade and Crossrail. 
Buoyant Property Market
Reading is a prime example of a buoyant market where property prices have been steadily rising over the last 10 years. Steve Woodford, Managing Director, of local lettings agent, Haslams, comments "Property values in Reading have experienced consistent growth over the last decade, with town centre apartments rising in value by 75% over the last five years. With Crossrail now imminent and talks of a new fast, direct rail link to Heathrow, we believe that real estate in Reading will continue to offer a solid investment proposition."
Elkie Russell, Managing Director, Berkeley Homes (Oxford & Chilterns), comments: "Reading has so much to offer residents, employers and investors alike: the UK's largest tech cluster; home to 13 of the world's top 30 global brands; excellent employment opportunities with one of the highest wages in the UK outside of London; superb transport connections; outstanding education; to name but a few."
Rental market – one of the best in the UK
According to Haslams, typical rental returns in Reading are between 4% and up to 4.5%. Haslams let between 70 and 100 properties every month; void periods are minimal and usually properties are let within one week of being marketed. Reading's population of 230,000 continues to grow and is set to continue for the foreseeable future particularly with the arrival of Crossrail - meaning that demand from tenants is here to stay.
The Location
Reading is located 40 miles west of central London and 30 miles from Heathrow Airport. Huntley Wharf is just 0.7 miles from Reading Central Station, and to get from Reading to London Paddington takes under 30 minutes. The imminent Crossrail will allow commuters to travel to London Bond Street in 54 minutes; Canary Wharf in 68 minutes.
For more information of Huntley Wharf and other residential properties in UK, please contact JLL International Residential at +852 3759 0909 or irp.hk@ap.jll.