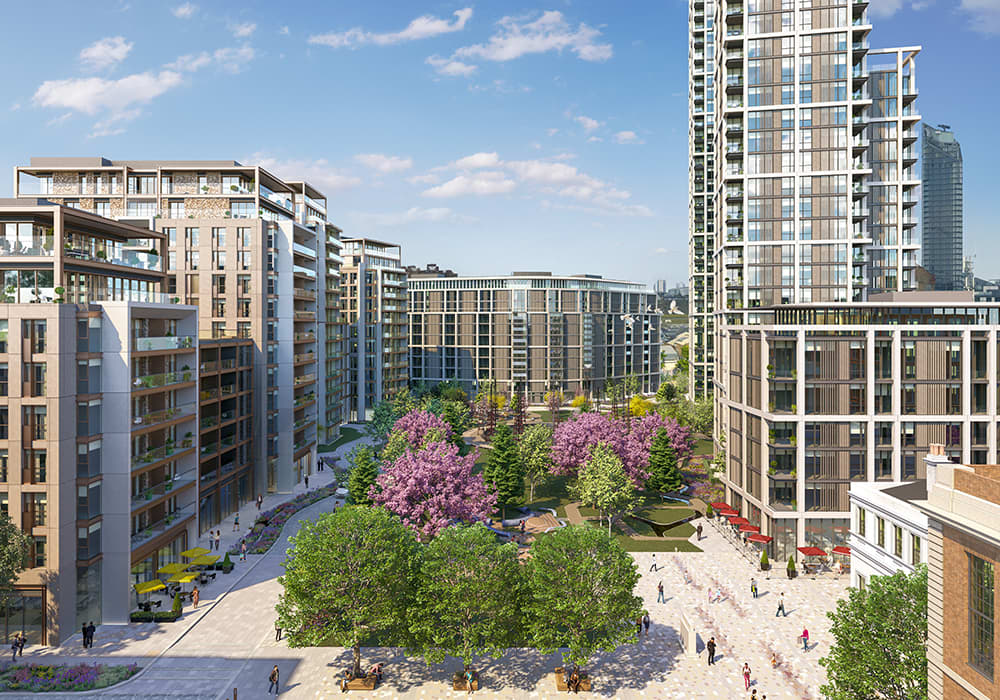 Commercial and residential projects are opening up one of West London's most productive areas
Bordered by affluent London areas such as Chelsea and Kensington, Fulham offers the high life without the high property prices. Over the years, this leafy district has been favored by royalty, rock stars and other tastemakers, and today it's popular with the C-suite too – boasting the highest number of company directors per capita in the United Kingdom.
Home to the Virgin group, Disney and other global firms in London, as well as a major transport hub in the West, Fulham property is in high demand by professionals. The working age population increased by 13 percent between the 2001 and 2011 censuses, while the elderly population declined by 5 percent. Fulham is also popular with students and families with children, who appreciate its convenient access to world-class universities and outstanding local schools.
Multimillion-pound investment in public spaces, commercial facilities and residential schemes is making Fulham an even more desirable place to live, work and invest in London, particularly around the historic King's Road.
Royal address
A rich history is a given for any major street in London, but the King's Road has special royal approval, originally being the private road of King Charles II when he visited his palace at Kew. By the 1960s, the King's Road took on very different associations at the heart of the Swinging London scene, home to influential fashion designers and frequented by the likes of the Beatles, the Rolling Stones and Jimi Hendrix, before the next decade saw it became an epicenter of punk.
Today, the King's Road is known a destination for sophisticated shopping, dining and culture in West London. Running for two miles through Fulham and Chelsea, global brands share the thoroughfare with fashion and cosmetics boutiques, antique stores and jewelers. Duke of York Square hosts a weekly market and is lined by restaurants and cafes, while fine dining reservations at the prestigious Bluebird and The Ivy in Chelsea Garden need to be made in advance.
For cultured experiences, the Saatchi Gallery and Royal Court Theatre in Sloane Square give platforms to the most exciting and challenging contemporary artists and the RHS Chelsea Flower Show brings the world's biggest flower show to the area each spring.
Educational excellence
London's major universities are among the highest performing in the world, and many are within easy reach of a Fulham address. These include global top 20 universities Imperial College London and University College London, top 10 UK university King's College London and specialist institutions such as the London School of Economics.
Fulham itself is home to several primary and secondary schools rated 'Outstanding' by Ofsted, including Lady Margaret School in Parsons Green and St Paul's Girls' School in Brook Green, making Fulham a popular choice for families renting and buying in London. With three London Underground stations, an Overground station and a nearby bus terminal at Hammersmith Broadway, Fulham property is well connected to the rest of London, the wider UK and international airports.
Regenerating Fulham
The regeneration of Fulham is multi-faceted, involving improvements to existing public and commercial amenities and the creation of new spaces, business facilities and residential neighborhoods. These improvements aim to serve the growing population (which increased by 10 percent overall from 2001 to 2011), further develop Fulham's potential as a commercial hub, and attract more investment to the area.
As part of the Fulham Riverside Regeneration Area, developer St William is creating 1,800 homes and 100,000 square feet of commercial space at King's Road Park, a six-acre site between the King's Road and the River Thames that's targeting overseas property investors. For more information about this project and other residential properties in London, click here  or contact JLL International Residential at +852 3759 0909 or irp.hk@ap.jll.com.