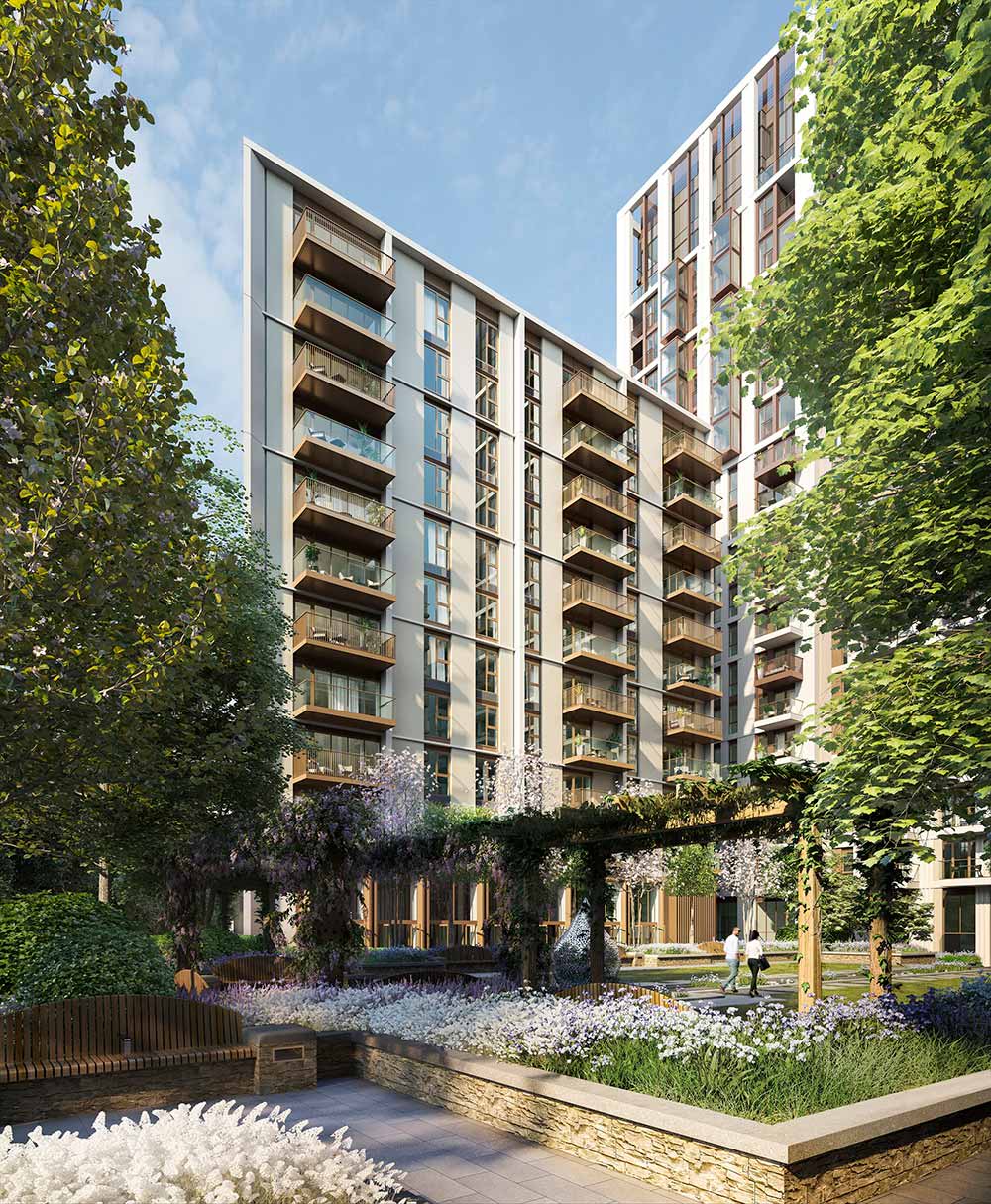 Limited collection of apartments unveiled at White City Living, located in London's central Zone 2
HONG KONG, 14 May 2019 – St James, part of the Berkeley Group, has launched the Bowery at White City Living, the centrepiece of the major west London opportunity area. The Bowery will comprise 40 one- bedroom and 20 two-bedroom apartments, each complete with its own private balcony. Wellness is at the heart of the Bowery, with residents benefiting from direct access to the scheme's Home Club facilities, all of which are located within the building.
Once complete, White City Living will create a brand-new destination with over 1,800 homes set amongst eight-acres of open space, including a five-acre public park. Situated in a central Zone 2 location, White City is set to become the Capital's brightest new neighbourhood, home to BBC worldwide and the largest shopping centre in Europe: Westfield London. The scheme is also located next to London's most prestigious and renowned educational institutions, including Imperial College London's new campus. An array of popular bars and restaurants are also opposite the development and close by at Westfield London.
Poised for growth
White City Living will offer residents the opportunity to invest in a popular area of London. JLL forecasts the housing prices in West London's prime location will rise 13% in the next five years. Furthermore, Sterling is also anticipated to appreciate against the US Dollar by 15% by 2021, making White City Living an investment that is likely to deliver favourable returns for buyers down the line.
Nick Whitten, Research Director at JLL in UK, said: "London remains one of the world's premier investment locations. Alongside the key fundamentals, London also boasts a world leading cultural and leisure offering. It is the most culturally diverse city in the world with more than 250 languages spoken and is one of the world's tourist capitals, welcoming circa 20m visitors per year.
"White City is also extremely well connected and the area attracts a broad base of residents. There are currently over 25,000 renters in the surrounding area that earn over £60,000 per annum, illustrating the underlying demand for homes. This demand will grow as White City Living further transforms into a world- leading hub of research, innovation and education, fashion, retail, media and entertainment."
A prime location for education with unparalleled connectivity
White City Living is uniquely positioned next to some of London's top schools and universities. Imperial College London is consistently ranked a top 10 university in the world and is developing a new 23-acre campus next to the development, whilst UCL, LSE and King's College are all just 30 minutes away.
Furthermore, prestigious schools such as St Paul's and St Paul's Girls are on White City Living's doorstep within a 10 minute drive, while Eton and Harrow can be reached within 30 minutes' drive.
The development is only two minutes' walk from Westfield London, the largest shopping centre in Europe, which features luxury boutiques and over 750 brands. Other London retail favourites are also within easy reach, including Selfridges and Harrods which are both a 20-minute drive away or 12 minutes on the underground. The area is further complemented by the prime residential neighbourhoods of Holland Park and Notting Hill, both of which are within walking distance of White City Living.
Furthermore, White City Living boasts exceptional transportation links. White City and Wood Lane Underground stations are located next to the development's entrance and are served by the Central, Hammersmith & City and Circle lines, allowing residents to reach Marble Arch in 10 minutes and the West End in 14 minutes.
Thoughtful design with the finest amenities
Homes at the Bowery have been thoughtfully designed and residents will benefit from smart interior spaces that are generously proportioned and bright, with many apartments offering views over the private Magnolia Garden. Apartments within the Bowery are finished to the highest specification, including kitchens with integrated Miele appliances and underfloor heating and comfort cooling.
As an extension of their home, residents at White City Living will have direct access to a wealth of facilities, which have been specifically tailored to the development. Many of these amenities can be found across the lower ground, ground and first floor of the Bowery, providing residents with direct access to the gym, spa, and swimming pool with adjoining sun terrace. Additionally, the Bowery benefits from being connected to Belvedere Row where the remaining residents' amenities can be found, these include a private dining room, two 12-seater cinema rooms, a multi-purpose entertainment suite and a fully- equipped business lounge and meeting rooms.
The green centrepiece of a new destination
White City Living will feature eight-acres of gardens, designed by award-winning landscape architect, Murdoch Wickham. This will include water features and a five-acre public park, which will create a focal point for the neighbourhood. With planting for every season in the Magnolia, Autumn, Central and Spring Gardens, White City Living will feature contrasting and complementing colours all year round.
First residents at White City Living are expected to move in this summer. Prices at the Bowery start from £735,000 (about HKD 7.5 million).
Exhibition details:
Date: 25th & 26th May 2019 (Sat & Sun) Time: 11:00am – 7:00pm
Venue: Suite 3001, 30/F, Edinburgh Tower, The Landmark, 15 Queen's Road Central, Central, HK
For more information about the project, please contact JLL International Residential:
Mandy Wong, irp.hk@ap.jll.com, (852) 3759 0909
- ends -
About St James
St James was established in 1996, originally as a joint venture with Thames Water. Over the past twenty-three years, the company has established a reputation as a design – conscious developer which continues to regenerate sites and transform them into attractive developments whose design not only creates desirable places to live, but also has a positive impact on the environment.
St James is a proud member of The Berkeley Group, an acknowledged leader in the delivery of major UK urban regeneration schemes. The Group has been responsible for shaping much of the modern development along central London's riverside, replacing former industrial areas with vibrant places to live, work and play. Dedication to quality and design is matched by a commitment to the communities the company helps create, and to the environment as a whole. 
About White City Living
Planning Permission no: 2018/02116NMAT granted by London Borough of Hammersmith & Fulham. Property ID: IRP_N_101_00309. Acquiring interest in an apartment in the building with 999 Years leasehold.