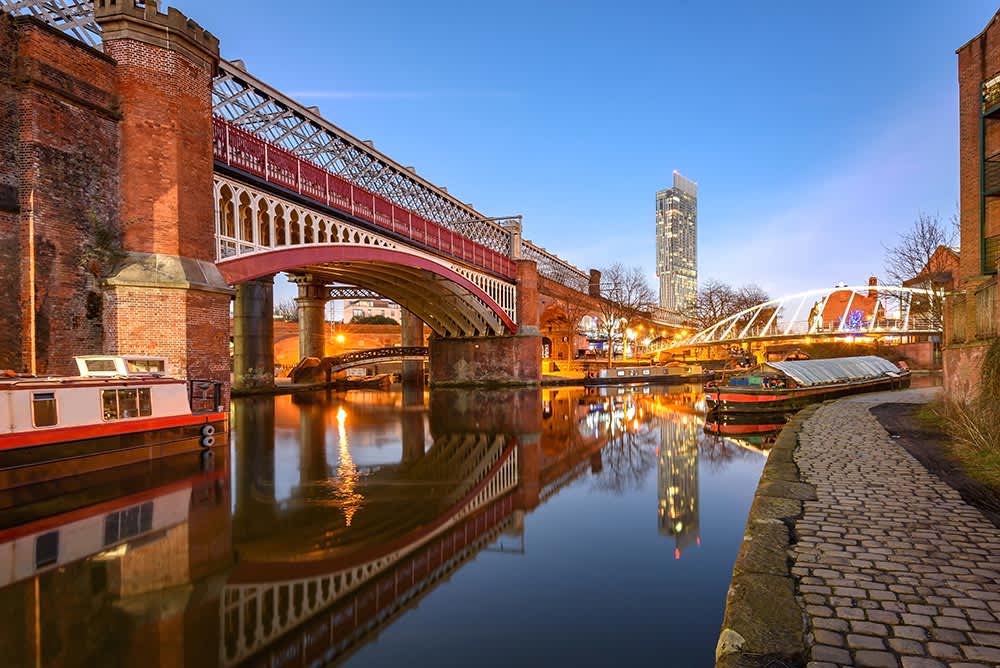 Manchester, often considered Britain's second city behind London, is undergoing something of a revival, with amenities to match its rival in the south. £800 million has been invested in Manchester's Airport City and £110 million in The Factory, an impressive theatre and arts facility worthy of West End performances. So it was perhaps only a matter of time before the city also sought to replicate one of London's most fashionable addresses and develop the "Mayfair of Manchester".
Built on eight hectares surrounded by the River Irwell, the Castlefield conservation area and Manchester city centre, St. John's – a new development from Allied East – hopes to live up to the name it was given in an original design brief.
Mark Elliott, Associate Director with JLL's International Residential Property Servicesteam, believes the moniker is justified, likening the development to an opportunity to "buy in Mayfair in 1990."
With the likes of Soho House already expressing interest in the project, he says it won't be long until the other big players of the London scene start to take hold of the opportunities to open boutiques, bars and Michelin-star restaurants. "Once that begins to happen the money will start to flow in and in turn there will be large appreciation upon investments," Elliott adds.
JLL's UK Residential Research team expects house prices in the North West of England to increase over the next five years, building on 5.5% growth in Manchester in the twelve months to the end of Q2 2016. "These are the locations where scale on a per asset basis is easier to achieve," explains Adam Challis, Head of UK Residential Research in a recent investment report, "Into the Mainstream". With investors seeking to diversify their portfolios and increase return-on-investment, UK cities outside of London are becoming ever-more appealing.
But for many buyers, lifestyle is increasingly important too, and by forging a community around its residential units, St. John's aims to integrate itself into the fabric of its city long-term and offer its residents enriching experiences. They will also have a choice of spaces to fit their individual lifestyles, from low-rise apartments to penthouses, lofts and high-rise living.
 The expected establishment of workspaces of all sizes, commercial workshops, retail outlets, cafés and studios, will transform the area into an attractive destination for a youthful, technologically savvy demographic to both do business and unwind.  "By encouraging entrepreneurs, innovative companies, artists and designers to develop their craft within the development and then to engage with the wider community,  St. John's will stimulate local economic growth and that in turn will lead to higher returns on investment," says Elliott.
"There is an opportunity here, but it will not be available for long," he warns. "Buy in now to be part of one of the most exciting, but under the radar, regeneration projects in the UK."
For more information about St John's or investing in UK Property, contact Mark Elliott.